High Court Committee Calendar



Click here for upcoming high court committee meetings
About National Spot Exchange Limited (NSEL)
National Spot Exchange Limited (NSEL), was incorporated in May 2005 as a spot exchange for trading in commodities. Central Government by a notification dated June 7, 2007 had granted an exemption u/s 27 of the Forward Contracts Regulation Act (FCRA), to NSEL from complying with all the provisions of the FCRA subject to certain conditions. In October 2008, NSEL commenced operations providing an electronic trading platform to willing participants for spot trading of commodities, such as bullion, agricultural produce, metals, etc. Like NSE and BSE, NSEL has its registered trading members, commonly referred to as brokers, who execute commodity trades on the NSEL platform on behalf of and in accordance with the instructions of their respective clients across India. The trading operations of NSEL was suspended with effect from August 6, 2013, only after a notification dated September 19, 2014, when the Central Government withdrew the gazette notification dated June 5, 2007.
more >>
e-Series Rematerialization & Financial Closure

National Spot Exchange Limited (NSEL) has received 'No Objection' from Forward Markets Commission to proceed with the process of Rematerialization and Financial Closure of e-Series. Pursuant to this, NSEL has issued the circular no. NSEL/DP/2014/014 dated April 04, 2014.

e-Series unit holders who intend to rematerialize their holdings can follow the process as detailed in the above circular. Unit holders may kindly note that this process of rematerialization is different from the earlier process of Surrender Request (SRF) which has been since discontinued. The process of rematerialization shall be possible only for such unit holders whose holdings match or exceed the exact denomination of the underlying metal. Hence, it is strongly advised to verify the same from the latest stock report before initiating the process.
more >>

more >>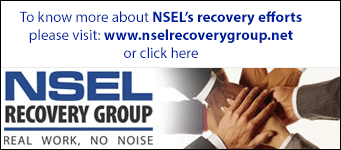 Important Updates
Defaulter Yathuri Associates Properties, Auction sale Notice dated 03.07.2023 issued by Deputy Collector and Competent Authority (NSEL)
Defaulter Shree Radley Trading Co. Properties, Auction sale Notice dated 03.07.2023 issued by Deputy Collector and Competent Authority (NSEL)
Defaulter Spin Cot Textiles Pvt Ltd Properties, Auction sale Notice dated 03.07.2023 issued by Deputy Collector and Competent Authority (NSEL)
Defaulter Mohan India Group Properties, Auction sale Notice dated 03.07.2023 issued by Deputy Collector and Competent Authority (NSEL)
Defaulter ARK Imports Private Limited Properties, Auction sale Notice dated 03.07.2023 issued by Deputy Collector and Competent Authority (NSEL)
Hon'ble Bombay High Court vide order dated 27.06.2023 rejected the Criminal Application of one Defaulter, M/s Shree Radhey Trading Co (SRTC) and upheld the Order dated 08.05.2023 passed by the Learned Additional Sessions Judge
Seven properties of defaulter ARK Imports Pvt Ltd are made absolute vide Hon'ble MPID court order dated 20.03.2023 in Exh.225
Hon'ble Bombay High Court dismisses appeals filed by NIAG against distribution of money to individual clients in the Rs 10 lakhs to Rs 20 lakhs category
Hon'ble MPID Court permits Competent Authority to auction nine properties of defaulter Shree Radhey Trading Co.
Hon'ble Supreme Court Order dated 23.01.2023, emphasize on the attachment of the beneficiary's assets
Defaulter Mohan India Group Property, Sealed Bid Auction Notice dated 15th February,2023 issued by deputy Collector and Competent Authority (NSEL)
Attached property of defaulter Loil Overseas, Loil Continental, Loil Health is made absolute by Learned MPID Court, Mumbai, vide order dated 30.01.23. Interested buyers may contact the Competent Authority (NSEL)
Attached property of defaulter White Water Foods Pvt Ltd situated at "House No.564, Sector 8B, Chandigarh" is made absolute by Learned MPID Court, Mumbai, vide order dated 10.01.23. Interested buyers may contact the Competent Authority (NSEL)
Attached property of Defaulter White Water Foods Pvt Ltd situated at "Plot No 371, Industrial Area, Phase II, Panchkula Haryana-134109" is made absolute by the Learned MPID Court, Mumbai, vide order dated 03.12.2022. Interested Buyers may contact the Competent Authority (NSEL).
Court convicts defaulter Shree Radhey Trading Co. and its proprietor Ramesh Nagpal for the offence punishable under Section 138 r/w. 141 of the Negotiable Instrument Act vide Section 255(2) of the Code of Criminal Procedure. Ramesh Nagpal sentenced to simple imprisonment of 1 year and Shree Radhey Trading Co. and Ramesh Nagpal are severally and jointly liable to pay fine of double the amount of cheque within 1 month from 14.10.2022.
NOTICE FOR SERVICE BY SUBSTITUTION IN A NEWSPAPER NSEL (Decree Holder) Versus Mohan India Pvt Ltd & Ors (Judgment Debtors)
Hon'ble Supreme Court Committee issues directions to ED and EOW to file latest status report of the attachments effected by them.
Hon'ble Supreme Court appoints High Power Committee to execute decrees and awards against defaulters
Government of Maharashtra has attached the assets of Defaulters LOIL group under the MPID Act 1999 vide Gazette dated 18.04.2022
CA Naresh Singla, Auditor of defaulter Lotus Refineries Pvt Ltd for year 2012-13, is found Guilty of Professional Misconduct falling within clause 7 of Part I of 2nd Schedule of Chartered Accountant Act,1949 by ICAI Disciplinary committee . CA Naresh Singla is directed to deposit fine of Rs. 1 Lakh. Also his Name will removed from the Registered member for Six Months.
CA Mulraj Gala, Auditor of defaulter Lotus Refineries Pvt Ltd for year 2011-12, is found Guilty of Professional Misconduct falling within clause 5,7,8,9 of Part I of 2nd Schedule of Chartered Accountant Act,1949 by the ICAI Disciplinary committee. Also Committe ordered for removal of CA Mulraj Gala Name from the Register member for one year along with fine of Rs. 1 Lakh.
ABA of Mr. Kailash Agarwal, Director of NSEL's biggest Defaulter – ARK Imports, has been rejected by PHHC
NSEL has obtained decree for Rs. 32.77 Crores on Shree Radhey Trading Company from Hon'ble Bombay High Court
Bail of Mr. Gagan Suri, Director of NSEL's Defaulter M/s. Yathuri Associates, granted by Hon'ble MPID Court
Bail of Mr. Gagan Suri, Director of NSEL's Defaulter M/s. Yathuri Associates, dismissed by Hon'ble Bombay High Court
No-Coercive order restraining EOW to take coercive step against Mr. Janak Raj Singh of LOIL Group is stayed by Hon'ble Punjab & Haryana High Court vide order dated 22.07.2021
Hon'ble Supreme Court dismisses SLP filed by few trading clients whose outstanding are above Rs. 10 Lakh
The Hon'ble Bombay High Court Order dated 18.02.2021 allowing sale of Civil Lines, Delhi property belonging to Mohan India Group
Defaulter, Mohan India Group, Property Auction Sale Notice dated 08th February 2021 by Deputy Collector and Competent Authority (NSEL)
Defaulter, Mohan India Group, Property Auction Sale Notice dated 04th January 2021 by Deputy Collector and Competent Authority (NSEL)
The Hon'ble Supreme Court order dt. 14.12.2020 dismissing the SLP, filed by DGM Developers Pvt. Ltd. owned by NSEL Defaulter – White Water Foods with regard to property situated at Shimla, Himachal Pradesh.
Hon'ble MPID court Order for bail cancellation of Mr. Kailash Aggarwal, Director of NSEL Defaulter – ARK Imports, on the ground of breach of condition.
Defaulters Property Auction Sale Notice dated 02nd September 2020 by Deputy Collector and Competent Authority (NSEL)
Public Notice Issued against NSEL Defaulter - ARK Imports Private Limited
Defaulters Property Auction Sale Notice dated 17th August 2020 by Deputy Collector and Competent Authority (NSEL)
Defaulters Property Auction Sale Notice dated 03rd August 2020 by Deputy Collector and Competent Authority (NSEL)
Defaulters Property Auction Sale Notice dated 09th March 2020 by Deputy Collector and Competent Authority (NSEL)
Defaulters Property Auction Sale Notice dated 06th March 2020 by Deputy Collector and Competent Authority (NSEL)
Based on complaint filed by NSEL, the ICAI committee has found Auditor of Defaulter - Lotus Refineries, C.A. Devraj Mulchand Gala, guilty for not maintaining compliance with auditing standard. Order Awaited.
Order passed by Hon'ble Punjab & Haryana High Court, dismissing the no-coercive order taken by NSEL defaulters LOIL group and ARK imports
Defaulters Property Auction Sale Notice dated 15th January 2020 by Deputy Collector and Competent Authority (NSEL)
Defaulters Property Auction Sale Notice dated 01

st

January 2020 by Deputy Collector and Competent Authority (NSEL)
Delhi High Court via order dated 27.09.19 has granted injunction on the properties of the judgment debtors (Mohan India & 9 others) and have restrained them from alienating/disposing any of their properties directly or indirectly.
33rd M. M. Ballard Pier Court issued Bailable warrant against Mr. Gagan Suri of defaulter Yathuri Associates in Section 138 matter.
Withdrawal order dated 29-08-19 passed by Punjab & Haryana High Court against Genex Infratech & Genex Polyfab (Group companies of ARK Imports) Challenging the Government of Maharashtra Notification under MPID Act.
BHC Order dated 22nd August, 2019 stating that NSEL is not an Financial Establishment within the purview of the Maharashtra Protection of Interests of Depositors in Financial Establishments Act, 1999.
Defaulters Property Auction Sale Notice dated 15th July 2019 by Deputy Collector and Competent Authority (NSEL)
Mohan India restrained from creating third party rights in respect of its properties by DHC in the execution petition filed by NSEL against the settlement award passed by BHC
Defaulters Property Auction Sale Notice dated 15th January 2019 by Deputy Collector and Competent Authority (NSEL)
Defaulters Property Auction Sale Notice dated 16th November 2018 by Deputy Collector and Competent Authority (NSEL)
Defaulters Property Auction Sale Notice dated 26th September 2018 by Deputy Collector and Competent Authority (NSEL)
Defaulters Property Auction Sale Notice dated 25th July 2018 by Deputy Collector and Competent Authority (NSEL)
MPID Court order – Rejection of application filed by Ms. Seema Sharma, w/o Mr. Arun Sharma, Lotus Refineries for defreezing the bank account with direction to the Competent Authority to return the amount laying in the said accounts.
Defaulters Property Auction Sale Notice dated 16th May 2018 by Deputy Collector and Competent Authority (NSEL)
Punjab & Haryana High Court dismissed Criminal writ filed by White Water and PD Agro against Enforcement Directorate
Recovery Update as on February 2018



| | |
| --- | --- |
| Category | Amount (Rs. Crs.) |
| NSEL Escrow Account | 19.20 |
| MPID | 01.00 |
| Total | 20.20 |

MPID Court order - travel rejection of Mr. Mohit Singhal & Shilpa Singhal, Director and Promoter of Aastha Minmet Private Limited
6 Orders passed by Punjab & Haryana High Court dismissing the Six Writ Petitions on jurisdiction ground filed by White Water and LOIL group challenging State of Maharashtra notification
Order Dated 25th July 2017 passed by the Hon'ble Committee in respect of P.D. Agro Processors Pvt. Ltd. & Group of Companies
The government of Maharashtra has appointed two full time separate Competent Authorities under the MPID Act for NSEL only. Attached is the G.R. Dt.8th May 2017 for perusal of all.
As per HC order Brizo Realty company (Aastha Minment creditor) has deposited Rs. 8,30,00,000/- (Rs. Eight crores Thirty Lakhs Only) in the Registry on 6th March, 2017

Court Order - Ranjeev Aggarwal of P D Agro/Primezone Developers to be arrested for not complying with his bail condition.

Order dated 16th January, 2017 passed by the Hon'ble Committee on the Application of LOIL group of companies.

Order Dt. 24th January passed by PMLA Court in PMLA Case No. 4/16 thereby issuing the process against ARK Group and Genex group

Ketan Shah's complaint against Motilal Oswal Wealth Management Pvt. Ltd. and Philip Commodities India Pvt. Ltd.
NSEL has obtained decrees on Aastha Minmet India Pvt. Ltd ., Juggernaut Projects Ltd. , Swastik Overseas Corporation , Yathuri Associates , and ARK Imports Pvt Ltd. from Bombay HC
Notice of Motion No. 998 of 2014 filed by Defendant No. 20 (Primezone Developers Pvt. Ltd.) in Notice of Motion (L) No. 807 of 2014 in Suit No. 781 of 2014 and Affidavit of Mr. Ranjeev Agarwal, Director, Primezone Developers Pvt. Ltd. in support thereof.
Agreement dated 2nd April, 2014 between Primezone Developers Pvt. Ltd. ("the Indebtedness Obliger") and Mr. Ram Naresh Saraf ("the Obligee") who happens to be the father of Mr. Pankaj Saraf, Complainant against NSEL
Letter dated 3rd June, 2015 addressed to Mr. Arvind Wadhankar, Senior Police Inspector (EOW) and Mr. Dhananjay Kamlakar, Joint Commissioner of Police (EOW) with respect to Primezone Developers Pvt. Ltd. and Mr. Ranjeev Agarwal
Offers are invited for purchase of black pepper and red chilly belonging to Shree Radhey Trading Co. stored at Shri Krishna Cold Storage and Foods, Janata Road, Hareti, Saharanpur 247001, UP.
Bids invited by NSEL for sale of Ferrochrome at S.No. 64, Ravivalasa Village, Tekkali, District Srikakulam, AP
Sealed Bids are invited for sale of TMT Bars of Aastha Minmet India Pvt. Ltd. located at Kurnool dist. , Andhra Pradesh
Sealed bids are invited for sale of Land of Aastha Minmet India Pvt. Ltd. situated at Cuttack, Orissa
Sealed bids are invited for sale of Land of Aastha Minmet India Pvt. Ltd. situated at Rangareddy, Telangana

Bloomberg TV – October 21, 2015 : Panel Discussion featuring Mr. Prakash Chaturvedi, Chief Executive Officer, NSEL
Zee Business – October 21, 2015 : Panel Discussion featuring Mr. Prakash Chaturvedi, Chief Executive Officer, NSEL
Zee Business – July 29, 2015 : Exclusive Interview of Mr. Prakash Chaturvedi, Chief Executive Officer, NSEL
ET Now - Hot Commodities – July 22, 2015 : Exclusive Interview of Mr. Prakash Chaturvedi, Chief Executive Officer, NSEL
more >>